4 Prenatal Vitamins That Won't Cause Constipation
Constipation is a common side effect of pregnancy, and you may have heard that the increased iron in your prenatal vitamin is the root cause. That may be the case, but there are other possible reasons why your bowel isn't moving as well as you'd like.
That's why it's important to talk to your doctor about constipation in pregnancy and have a discussion about what management options are right for you. If your doctor directs you to a prenatal vitamin that doesn't cause constipation, here are the best brands to choose from.
The Best Prenatal Vitamins for Constipation
We enlisted expert McKenzie Caldwell, MPH, RDN, fertility and prenatal dietitian, for her advice on what to look for in a prenatal vitamin to prevent constipation. Our top picks below are based on the following criteria:
​Third Party Tested:These vitamins have been third-party tested to ensure they contain what is stated on the bottle, in the correct amounts, and are free of heavy metal contamination.
​Either do not contain iron or contain iron bisglycinate:This is the form of iron that Caldwell recommends when iron constipation is a problem. "Ferrous sulfate is the most commonly recommended form of iron and unfortunately it can also cause constipation and digestive upset. When needed, I recommend that my clients take iron bisglycinate, which is well absorbed and not constipating."
​Contain folic acid or whole food sources of folate:The source of folate in prenatal supplements is currently a hotly debated topic. The Centers for Disease Control and Prevention and the American College of Obstetricians and Gynecologists both recommend folic acid as the main source of folate to prevent neural tube defects. Many prenatal supplements on the market today have replaced folic acid with methylfolate, the active form of folate. Methylfolate may be better absorbed in some people, according to the National Institutes of Health (NIH), but it has not been extensively researched in the prevention of neural tube defects. That's why, for the purposes of this review, we've only included vitamins that contain folic acid or whole food sources of folate. Talk to your doctor about the type of folate supplementation that's right for your needs.
Point
It is important to know that these prenatal formulas are not guaranteed to relieve or prevent constipation. Be sure to eat a healthy diet, stay hydrated, and stay active to help manage constipation during pregnancy.
1. Best Overall: Nature Made Prenatal Gummy + DHA
If iron-containing supplements are causing your constipation and you want to take a non-constipating iron supplement separately from your prenatal supplement, then this Nature Made pick might be a good choice for you.
This gum contains nutrients necessary for pregnancy such as vitamin D, choline, vitamin B12, iodine, folic acid and DHA. However, like most gummies on the market today, it does not contain iron – be sure to speak with your doctor about taking a separate iron supplement to meet your needs.
This supplement is third-party tested by the USP, so you can have peace of mind about the safety of your supplement. It is also an inexpensive option to fill those nutritional gaps.
2. Best Organic: Garden of Life myKind Prenatal Gummies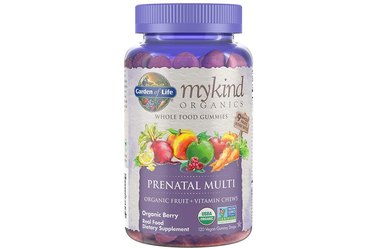 Garden of Life is a trusted brand that uses whole food ingredients in its multivitamins. This supplement is also iron-free, so be sure to speak with your doctor about a separate iron supplement, if needed.
Choosing a gummy vitamin for your pregnancy can be helpful if you have trouble swallowing pills, but not all of them contain all of the nutrients recommended for pregnant women. If you choose this supplement, make sure you have sources of choline (eggs, chicken, cod, beef, kidney beans, milk) and iodine (whole wheat bread, milk, Greek yogurt, iodized salt) in your power to meet your needs.
Garden of Life is USDA certified organic, so you can be sure it meets rigorous ingredient quality standards.
3. Best Capsule: Pure Encapsulations Prenatal
Pure Encapsulations is a highly recommended brand, and this prenatal has the nutrients you're looking for in a supplement. This capsule contains 100% of the recommended amount of iron you need for pregnancy, and it's the preferred form that's less likely to cause constipation.
It also contains other essential pregnancy nutrients, including vitamin B12, vitamin D, choline, and iodine. It contains a mixture of folic acid and methylfolate to allow you to cover your folate needs. It does not contain DHA, so be sure to get it from a separate supplement or through foods such as salmon, canola oil, flax seeds, and edamame.
Pure Encapsulations is third party tested with the labs disclosed on their website. This is one of the more expensive brands, so make sure this supplement fits your budget.
4. Best Tablet: Garden of Life myKind Organics Prenatal Once Daily
This NSF and USDA certified organic supplement is an excellent choice for a prenatal and contains most of what you need for your pregnancy. This supplement is sourced from whole foods and contains folate, iron, vitamin D, and iodine.
It does not contain choline or DHA, so it is important to get a recommendation from your dietitian on how to get these nutrients from your diet, or ask your primary care provider for an additional supplement.
This prenatal contains a digestive blend containing lemon, tomato, ginger, and peppermint that may help reduce your risk of constipation.
​Buy it:Amazon.com;​Price:​ $52.49 for a 60 day supply
What to know before buying
Here's what to look for in a quality prenatal vitamin that won't cause constipation:
Each supplement recommended above has been tested and approved by a third party or has received a seal from one of the big three testers, NSF, USP or Consumer. Laboratory.
Third-party testing ensures that the supplement contains what it claims on the bottle in those amounts, no more, no less. It's your peace of mind that you get what the supplement company says.
If you have any allergies or dietary restrictions, checking loads becomes very important. Of course, you don't want a lot of extra "junk" in your supplement in general, but it becomes even more important to check your labels if you have any specific conditions.
Some supplements contain gluten, dairy, soy, added sugar or artificial colors, and others that could cause problems. Always turn the bottle upside down if you are looking for specific allergens.
Always respect the dosage indicated on the label. Some supplements, especially gummies, will require you to take more than one per serving. To ensure you get all the nutrition you need, follow the dosage instructions.
What are the causes of constipation during pregnancy?
ACOG states that constipation in pregnancy is defined as having three or fewer bowel movements in a week. You may also have abdominal pain or hard, painful stools to pass.
There are myriad causes of constipation during pregnancy. Here are the most common:
1. Vitamin and mineral supplements
During pregnancy, your iron needs increase dramatically, not just for your baby, but for the increased blood volume in your own body. For this reason, many prenatals contain a higher amount of iron than you would see in a typical daily multivitamin.
Iron has often been the scapegoat for the constipation that accompanies pregnancy, so you may want to consider one of the non-constipating supplements above.
It's only natural to take it easy during pregnancy, especially in the last few months when it becomes an event to walk from the car to the grocery store. But sitting and being sedentary can slow down intestinal motility, not to mention your intestines becoming a little more cramped.
Staying active with even light activity, such as walking, can help prevent constipation.
ACOG states that hormones produced during pregnancy, including estrogen and progesterone, can also be listed as causes of constipation. The increase in these hormones has been linked to the slowing down of the digestive system.
It's no secret that diet plays a huge role in gut health and should be your first defense against constipation. Your body needs more fluid during pregnancy, and dehydration can be the root of your constipation if you're not careful. Additionally, your fiber intake could greatly affect your digestive movement.
Most plant foods contain both soluble and insoluble fiber. Soluble fiber can slow down your digestion, but insoluble fiber can speed it up. Be sure to get a good mix of both for good gut health.
If you are worried about your constipation, do not stop taking your prenatal medication, but call your doctor. There are ways to relieve your constipation while getting the nutrition your body needs. Your prenatal supplement may not be the cause of your constipation.
Caldwell also offers a suggestion for all women who are or are about to be pregnant: "Proper positioning on the toilet using a stool or squat can greatly help with constipation during pregnancy. ", she says. "If you experience pelvic pain or urine leakage in addition to constipation, pelvic floor physiotherapy can be extremely beneficial."